International Women's Day is an occasion marked by women's groups around the world. Since its birth in the early socialist movement during the First World War, recognition of the day has grown. The United Nations officially declared 1975 as International Women's Year. In 1977 the United Nations solidified March 8th as the day to celebrate International Women's day worldwide. Each year thousands of events are held throughout the world to inspire women and celebrate their achievements.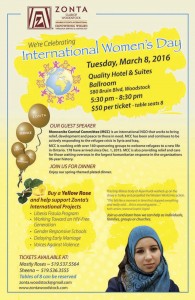 Tuesday, March 8, 2016
A wonderful evening with a exceptional women and truly inspiring speakers.  
We are pleased to announce 750 yellow roses were sold.
Thank you to all who attended our event, Student Ticket Sponsor-Toyota, Floral Sponsor-Mostly Roses and Venue Sponsor-Quality Hotel & Suites.
Young women from Oxford County high schools joined the celebration.
Congratulation to our Young Women in Public Affairs recipient Katie Charbonneau.
Guest Speaker's Bio
Kaylee Perez, Refugee Sponsorship Associate MCC Ontario
Kaylee Perez is a Refugee Sponsorship Associate at Mennonite Central Committee Ontario. She was born in Canada to a Cuban father and Palestinian-Colombian mother. Being raised in a multicultural family has fueled her passion for peace work both locally and abroad. She is a Master of Peace and Conflict Studies graduate and has 5 years of experience working as a strong advocate for refugees.
Her role at MCC is multi-faceted. It includes connecting and matching sponsorship groups to refugee families identified by the Canadian government and the United Nations, walking alongside sponsors and newcomer families as they mutually learn and grow, and engaging the community in public education on welcoming refugees.
"What I'm most passionate about – what I've seen over and over again – is the powerful way that regular people can make all the difference in the world to newcomer families. Every day, I see it with my own eyes, and every day, it humbles me."
MCC works with over 160 sponsoring groups to welcome refugees to a new life in Ontario.  178 have arrived since Dec. 1, 2015.  MCC is also providing relief and care to those waiting oversees in the largest humanitarian response in the organizations 96-year history.
All yellow roses sold will help support Zonta's International Projects
Liberian Fistula Program
Working Toward an HIV-Free Generation
Gender Responsive Schools
Delaying Early Marriage
Voices Against Violence