We are Raising Funds for Women & Girls
Each year the Zonta Woodstock hosts fundraising initiatives to raise funds for women & girls and in support of our commitments to Oxford County, District 4, and Zonta International projects. We welcome your participation and support in our club's fundraising efforts!
Raising Funds for Women through
Mint Smoothies Sales
Mint Smoothies are sold at our local market during December, VanWees Mostly Roses and Pharmasave in Ingersoll and Woodstock year-round, and at other designated stores to raise funds for club initiatives.
These famous Rheo Thompson of Stratford's Mint Smoothies come in creamy milk chocolate accented with a delicate mint flavour.
Year round Sales at Mostly Roses & Pharmasave
Woodstock Market (Nov. & Dec.)
Individual & Bulk Purchases Raising Funds for International Women through
International Women's Day Rose Sale
Zonta Woodstock is fortunate to have  VanWees Mostly Roses, a local florist, support our club's International Women's Day Rose Sale. The funds raised from the sale of our individually wrapped signature roses, pre-ordered roses or roses sold in the community, go directly to our Zonta International Service Programs.
Current COVID restrictions are preventing our club from selling roses in 2021.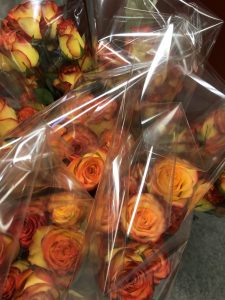 Pre-orders Available
Delivered free within Woodstock for 12 roses or more.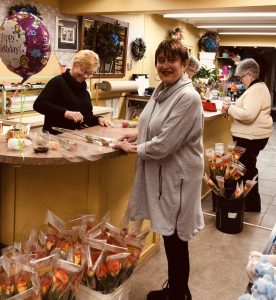 Wrapping Done By Members
In 2019, over 800 roses were wrapped and prepared for delivery or public sale in our community.
Available in the Community
One for $3.00, Two for $5.00 & one Dozen for $30.00
Raising Funds for Women through
Zonta Golf Classic
This annual event held in early summer brings together community sponsors/donors and women golfers to raise funds to support community groups that work to improve the health and the status of women in Oxford County.
The Classic is held at the Cardinal Golf Group – Craigowan, on the first Monday of June.