Raised $ 

25,487.00 Net Profit!
Women Golfing for Women
Golf
The 23rd Annual Zonta Golf Classic (ZGC). Women Golfing for Women is Zonta Woodstock's Golf Classic fundraiser held at Craigowan on Monday, June 7, 2021 supporting women & girls. Raising funds is necessary to support our mission to improve women's lives in Oxford County through advocacy and action. As of this year, the ZGC has raised $436,050 by bringing together golfers and many local businesses.  Thank you!
Women Golfing for Women took over Craigowan Golf Club on June 7, 2021.
Maria Odumodu, Zonta Woodstock President welcomes Zonta members from clubs in Kitchener-Waterloo, Brampton-Caledon and Oakville.
All activities for the 23rd Annual Zonta Classic were outside keeping everyone safe during COVID restrictions. Who could complain on a perfect June day!
Of course golfers started their day with a yummy mimosa thanks to a long time sponsor Woodstock Meadows.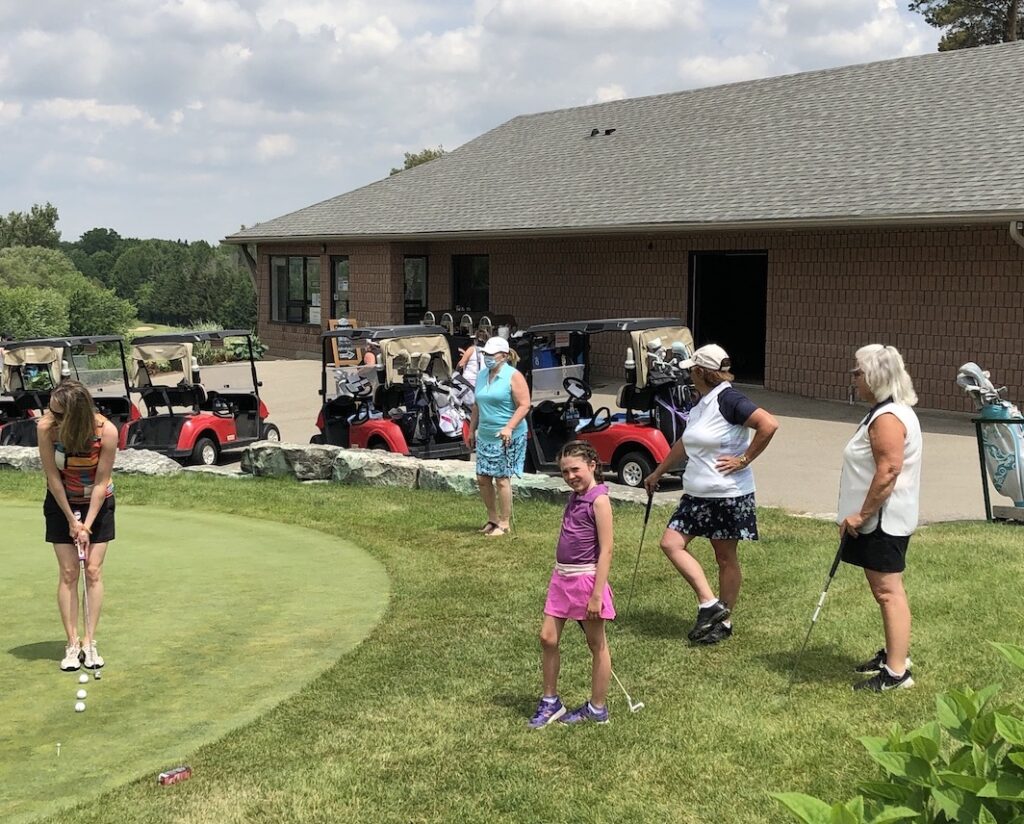 For an 8 year old she knows how to swing a golf club and drive the cart. Wonderful to see 3 generations supporting women in Oxford County.
Women Golfing for Women
Sponsorships & Donations
Our club is able to operate and allocate funds to local women and girls' focused programs because of our generous and long-time sponsors and donors.  We also need new supporters to invigorate this long-standing Golf Classic.  By supporting the  Women Golfing for Women, you will expose yourself and your company to over 100 women laughing and having a fun day of golf.  Involvement in our Zonta Woodstock Golf Classic has the unique opportunity to substantiate your interest in local women's needs and issues.
Through the generous support of individuals, businesses, golfers, and volunteers, the Zonta Golf Classic's net proceeds enable our club to award bursaries, supply chemotherapy comfort kits, and emergency personal care items at the Woodstock Hospital. Our club financially supports female-focused programs at Big Brothers Big Sisters Go Girls program, Domestic Abuse Service Oxford, Ingamo Homes, Children's Aid Society Oxford, Canadian Mental Health Association Oxford, to name a few. Zonta Says NO is a local advocacy campaign held during the 16 Days of Activism to raise awareness about the injustice of violence against women.
Oxford County Programs & Projects Supported by
23rd Annual Zonta Golf Classic Sponsors
Women Golfing for Women
Volunteer
Our club welcomes volunteers to help us plan and organize our women golfing for women event or help out on the day of the Zonta Woodstock Golf Classic. This is a great opportunity to help women in your community and experience Zonta and its members without a year-long commitment.