Oxford County will again hear "Zonta Says NO" from the Zonta Club of Woodstock during the 16 Days 25th to Dec. 10th. A campaign developed by Zonta International and its partnership with the United Nations and the Secretary-General's UNiTE to End Violence against Women campaign.
The United Nations has proclaimed the 25th of every month as "Orange Day" to highlight issues relevant to preventing and ending violence against women and girls.
The Zonta Club of Woodstock is proud to continue the campaign in Oxford County and raise awareness of violence against women (VAW) in our community. The Domestic Assault Review Team (D.A.R.T.) Oxford was instrumental in connecting Zonta to first responders of acts of violence in our community.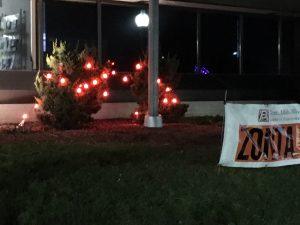 Throughout the 16 Days of Activism, the Zonta Says NO campaign team will be dispersing 2400 orange ribbons and 500 fresh baked cookies, supplied by College Avenue Secondary School Hospitality Program, at various locations in Oxford County.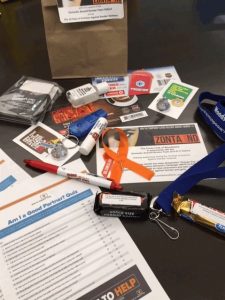 We are very proud to announce we will be handing out 600 grab bags to all six high schools in Oxford County this year.  The grab bags consisted of healthy relationship information and quiz, Call Out cards, mini chocolate bars, contact information to local service providers, A Zonta Club of Woodstock postcard, Early Marriage myths bookmark, and swag.