A club that will Advocate for Life Without Violence
Zonta Woodstock members envision a world in which women's rights are recognized as human rights and every woman is able to achieve her full potential.
In such a world, women have access to all resources and are represented in decision making positions on an equal basis with men.
In such a world, no woman lives in fear of violence.
Zonta Woodstock's Advocacy incorporates Zonta International's Zonta Says NO campaign with community education and outreach with like-minded organizations in Oxford County during the 16 Days of Activism Against Gender Violence.
Making Change by Building Relationships
Our club partners with the Domestic Assault Resource Team – Oxford, our County's first responders to violence, since 2013. In this campaign, we traditionally engage community organizations, grade 9 Oxford County high school girls, hospital staff, and business in distributing orange ribbons, table top trees decorated with orange ribbons and our signature cookies.  
This year, our campaign is being held through social media.  Each of the 16 Days of Activism Against Gender Violence will have a new post and opportunity for you to take action.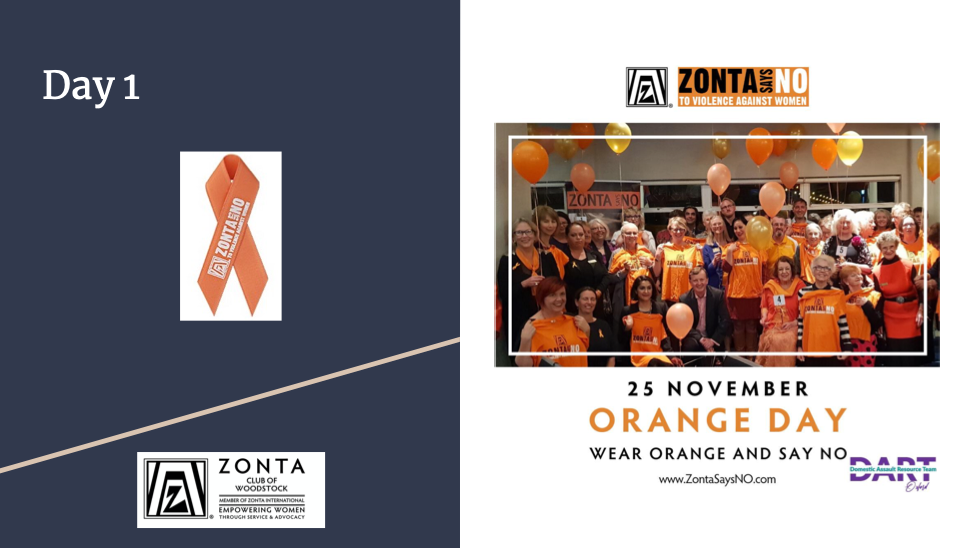 OAITH's 2020 Femicide List
Every year the Ontario Association of Interval and Transitional Housing (OAITH) releases the Annual Femicide List based on media reporting of women murdered by men in Ontario. Their work on Femicide Reporting is done in partnership with Dr. Mavis Morton University of Guelph.
Remembering the lives of these women wouldn't be possible without the support of the students taking SOC 4030 F18 Advanced Topics in Criminology.
We greatly appreciate their commitment and care in ensuring these femicides and acts of horrific violence are not forgotten.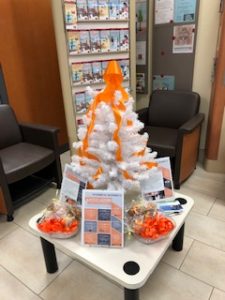 Zonta Says NO Campaign
members & partners advocate for life without violence
Consider Partnering with Us in 2021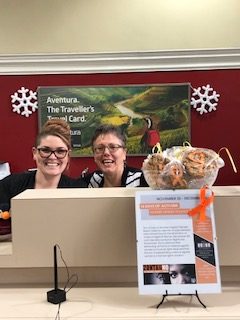 CIBC, Ingersoll staff promotion the Zonta Says NO campaign from Nov. 25 to Dec. 10, 2019.
Zonta International advocates promoting the human rights of women at international, national and local levels.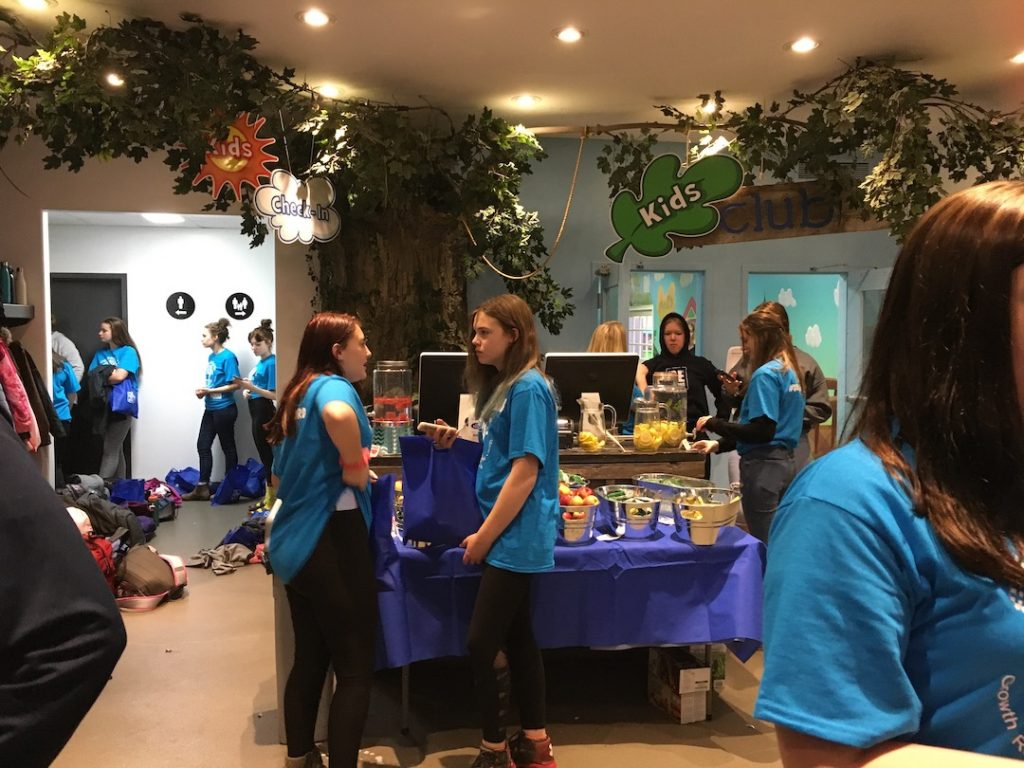 The 2019 GROWgirls Oxford on Nov. 29, 2019. Grade 9 girls from Oxford County attend the student lead event. 
Scotiabank, Dundas St., Woodstock staff promotion the Zonta Says NO campaign from Nov. 25 to Dec. 10, 2019. 
Advocacy is the expression of support for or opposition to a cause, argument, or proposal.  Advocacy may include influencing laws, legislation, or attitudes.  Zonta advocacy is an action taken in "the public interest" or for "the greater good" concerning advancing the status of women and girls and their human rights.
The Zonta Says NO campaign is a global campaign that focuses on violence against women and children.  
Our club has elected to support this campaign by building on the 16 Days of Activism Against Gender Violence to raise awareness of violence against women (VAW) in our community.  
We are incredibly proud to continue our partnership with the Domestic Assault Review Team (D.A.R.T.) Oxford  and supporting agencies since 2013.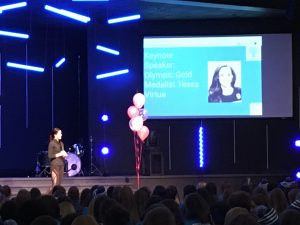 Growgirls Community Partner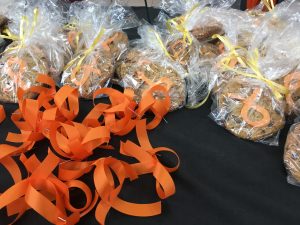 Individually Wrapped Cookies
New Initiative – Table-top trees decorated with orange ribbons.